Choose From Two Size Options
Our 2oz. bottles are perfect for new costumers, who are curious about trying this product. It's also the perfect travel size and can fit in most bags. Our 4oz. bottles are great for returning customers or for those sharing the product with others.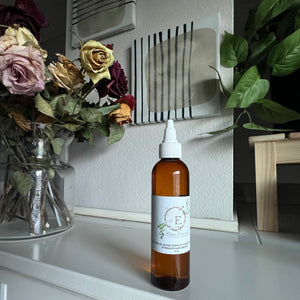 Benefits of Elaine Essentials
🌱 Seals in moisture⠀⠀⠀⠀⠀⠀
🌱 Prevents breakage⠀⠀⠀⠀
🌱Aids in hair growth
🌱 Moisturizes dry scalp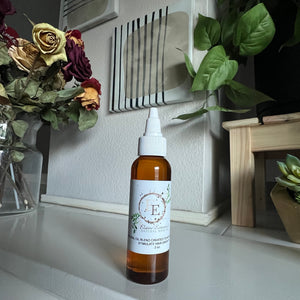 100% Pure Natural Oil Blend
Created with a specific blend of 8 pure natural ingredients including:
- Castor Oil
- Extra Virgin Olive Oil
- Sweet Almond Oil
- Coconut Oil
ALLERGY WARNING: Please be advised that this product contains coconut and tree nut ingredients.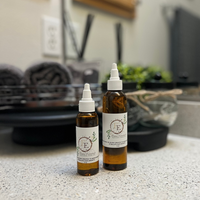 Frequently Asked Questions
How often should I use Elaine Essentials?
3-5 days a week (including wash day), as needed, to manage dry scalp.
How should I apply Elaine Essentials?
We recommend applying a conservative amount of Elaine Essentials directly to your scalp. Next, apply a few drops to the palms of your hands and massage the oil down the shaft of your hair.
When will I receive my order?
Orders are processed and shipped 3-5 days after payment is received. Please allow an additional 10-14 days for orders to arrive once shipped.
I love it! It has thickened my edges a bit and my hair lovesss it to a maximum. I recently bleached my hair and touching it you would never know! It's so soft-I've never had my hair this soft, even as a loose natural so I'm definitely keeping it in my regimen forever 😂 I'm a bit heavy handed with it but it definitely works wonders so thank you so much for making this product!

@ruled.bymars
Love love love the product... I use it after I blow dry my hair and on styles like you see in the pic.And I also have seen growth using the product as well.

@bray_brazy529
I've been using this product for about a month now and I can definitely tell the difference in how healthy my scalp looks and feels. On top of that, it smells AMAZING!

@eman_nzinga_rn
Contact Us
Elaine.essentials@gmail.com
Spread the word by sharing our ad